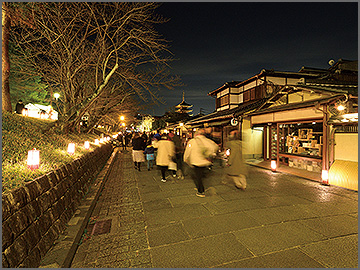 ROHM co. produces "Light and Blossoms Pathway"
A lot of lanterns decorate the 5 km walking path that leads to the foothills of Higashiyama Mountain. From the north, the path goes through Shoren-in Temple and Maruyama Park, and then through Yasaka Shrine to Kiyomizu-dera Temple in the south.Enjoy the striking charms of Kyoto streets. Faint lights that beautify the store fronts of Monzen-machi, soft lights that reflect off the stone pavements, lights swaying amongst the trees, white and earthen walls.
The Ikebana Promenade and the abundant Ikebana arrangements together with the paper lanterns invite the visitor to an enchanting world.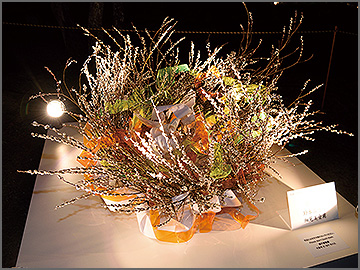 Contemporary Ikebana Exhibits
A grand flower arrangement competition is held with the cooperation of Kyoto Ikebana Association, in Maruyama Park. some flower arrangements are displayed in the early and late stage of the festival.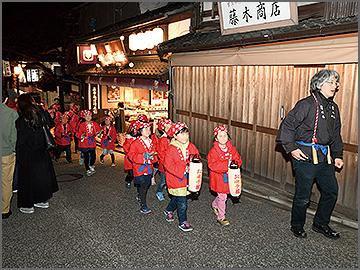 Fire Watch and Ohayashi Music Group
Local school children play wooden clappers, bells and drums and sing children songs about watching the fire and walking through the "Lanterns and Flower Lane".